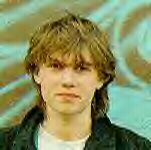 Odessa
"Odessa" - 1980
Nena (as a Band)
Nena 1983
? (Fragezeichen) 1984
Nena International Album 1984
Feuer Und Flamme 1985
It's All In The Game 1985 (English version of Feuer und Flamme)
Eisbrecher 1986
He also co-wrote a few songs for Nena solo albums. Here is a list of it:
From Wunder Gescheh'n - 89
Wunder Gescheh'n, Du Bist Überall, Steht Auf, Hero.
From Bongo Girl - 92
Ich Kann Nich Mehr, Was Immer Du Tust, Bongo Girl.
From Und Alles Dreht Sich - 94
Ich Halt' Dich Fest.
NEWS
This is a recent news I found out.
Jürgen co-written 3 songs with his girlfriend, Ilonka Breitmeyer in 1998/99 for the German popstar, Tinka. The songs are not released yet but you can hear them by clicking here. I listen to them and I think the sound is really cool so check them out.
You want to know what Jürgen has been doing lately? Yep, he is also a webmaster, check it out!!!